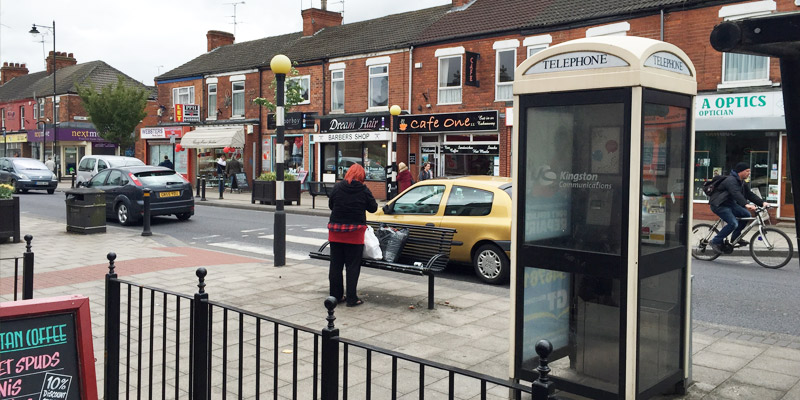 Five Weird Things We Love About Hull
Just some of the things we love about Hull and what makes our great city unique!
Dead Bod
Back in the sixties, skipper Len "Pongo" Rood and engineer Gordon Mason grabbed some white paint and slapped a simple image of a dead bird onto a corrugated iron shed in Alexandra Dock, with the words 'A Dead Bod' in capital letters below. Rather than being removed, this piece of drunken graffiti was soon adopted as a navigational tool for fisherman and gradually became an important part of the city's cultural fabric. This land is required for development now that Green Port Hull is in full swing, which will mean the destruction of Dead Bod's shed. Where many cities wouldn't bat an eyelid, the people of Hull have rallied in peaceful protest, fighting to protect this piece of creative identity for future generations to enjoy (and the RNLI to continue using as a location marker).
White phone boxes
Whilst the rest of the UK has red phone boxes, ours in Hull are white. Municipal telephone companies were common across the UK in the early twentieth century, but they were all gradually absorbed into the Post Office Telephone department, which subsequently became BT. All, that is, except for Kingston Communications, simply because our city decided that it wanted to continue doing things its own way. KC is now a national company with headquarters in Hull, supplying one of the UK's fastest broadband packages.
American Chip Spice
Hullensians sprinkle, dash and pour American Chip Spice on practically everything, from the obvious bag of chips to homemade meals the likes of curries, spag bol and even roast dinners. Yet despite its name, American Chip Spice originated in Hull. A local twist on common seasoning salt, our chip spice is loved far and wide due to countless students and professionals visiting the city and taking it back to their hometowns.
World's smallest window
There's a street in Hull city centre, branching off from Whitefriargate, called The Land of Green Ginger. If this isn't wonderful enough, its attractive cobbles run beneath the world's smallest window. Once used by the gatekeeper of the George Hotel to look out for stagecoaches and customers, it is now a quiet and humble gem of local history. The fact that it's a stone's throw from England's largest parish church, Holy Trinity, makes it all the more charming.
The Fish Trail
If you know of another place that has 42 pieces of marine-themed sculpture integrated into the ground, please do let us know. This A-Z of fish creates a tour across Hull's Old Town, with life-size pieces ranging from the teensy anchovy to the mighty 10ft ray. There's also a little humour in some of their locations, such as an electric eel outside the electricity sub station and a shark beside a bank. For more information, pop to the Tourist Information Centre beneath City Hall.
Love Hull? Invest in local property!
We're Chris and Tony Hodgson, a father and son team that's worked together for years. Our professional and friendly approach to doing business has helped us to grow our portfolio and deliver customer satisfaction across the city. Get in touch on 01482 342155 or email info@hullinvestmentproperties.co.uk to invest in Hull property today.