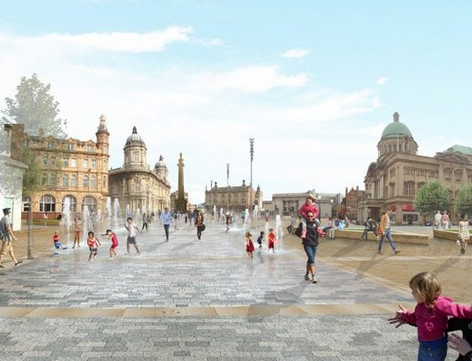 Hull's Multimillion-pound Facelift
Everyone realises that Hull is to be the UK City of Culture for 2017, and chances are that you've heard about the city centre's £25m regeneration scheme in preparation for our year in the spotlight, but do you know exactly what it all means? It's not simply a case of filling up a few potholes and adding a lick of paint, this kind of money goes a long way.
We have on the horizon the largest city centre development project in Hull's history which, combined with a £104m government investment programme, is set to create thousands of jobs in the Humber region. Whilst many existing pedestrianised areas will be repaved, the majority of street furniture will be replaced. Then there are the really cool transformations, such as designer lighting, fountains and heritage engagement. A significant facelift, it will not only make sure that we're fit to welcome the additional 12 million visitors expected during 2017, but also provide a legacy that can be enjoyed for many years to come by residents and tourists alike.
Here are some of the expected improvements that will take place between now and the big year, courtesy of the Hull Daily Mail.
Paragon Station and Paragon Square
A large-scale public art commission is earmarked outside the station to create a lasting impression for visitors arriving in the city for the first time.
Jameson Street
As well as being repaved, the street's existing "extremely cluttered" look will be stripped back. The stretch between King Edward Street and Bond Street will also be pedestrianised. Suggested artworks featuring poetry and text being engraved into paving and new seating is proposed.
King Edward Street
Traffic will no longer be allowed between Storey Street and what will become a new public square outside the BHS store. A new pedestrian-only zone will be created, complete with an avenue of trees. An alternative route for the city centre bus loop will see buses use Albion Street and Bond Street.
Queen Victoria Square
Completely repaved with street-level fountains and a high-tech lighting system to illuminate the surrounding historic buildings at night. Relocating the Wilberforce Monument back to the area is under consideration.
Beverley Gate
The existing amphitheatre will be filled in with the remains of the Old Town's walls encased in architectural glass, allowing people to view them from above. New illuminated glass pillars are planned near the entrance to Whitefriargate, featuring images of the original medieval gateway. A new stepped public space overlooking nearby Princes Dock is also proposed.
Queens Gardens
The park's original 1920s design will largely be reinstated. Proposals include a new central performance stage commemorating the late Hull musician Mick Ronson and a removable stage over the pond near Wilberforce Drive. Boundary walls and planting near Queen's Dock Avenue will be removed to create new pedestrian access.
Whitefriargate
Repaved with the street's existing trees being removed to allow better sight lines and enhance views of the architectural features of the buildings on either side.
Fruit Market
Both Humber Street and Pier Street as well as a section of Humber Dock Street will be pedestrianised. Existing cobbles in Humber Street will be retained as part of new paving works. Canopy lighting running the length of the street is also likely.
Trinity Square
The boundary wall surrounding Holy Trinity Church will be removed to create a larger public space. The current seating, fencing and art installations in the square will be replaced and reused elsewhere, while the Andrew Marvell statue could be relocated. Lighting systems will illuminate the square, the church and other buildings at night.
This is just the first phase, so it really is an ambitious project that will noticeably change the way we view, access and use the city centre. With a huge influx of people moving here both long-term and for weekends and day trips, it's the perfect time to invest in Hull property.
Love Hull? Invest in local property!
From student house shares to stylish apartments and retail premises, get in touch for a friendly chat by calling 01482 342155 or email info@hullinvestmentproperties.co.uk and tell us exactly what you need.
Image: Hull Daily Mail