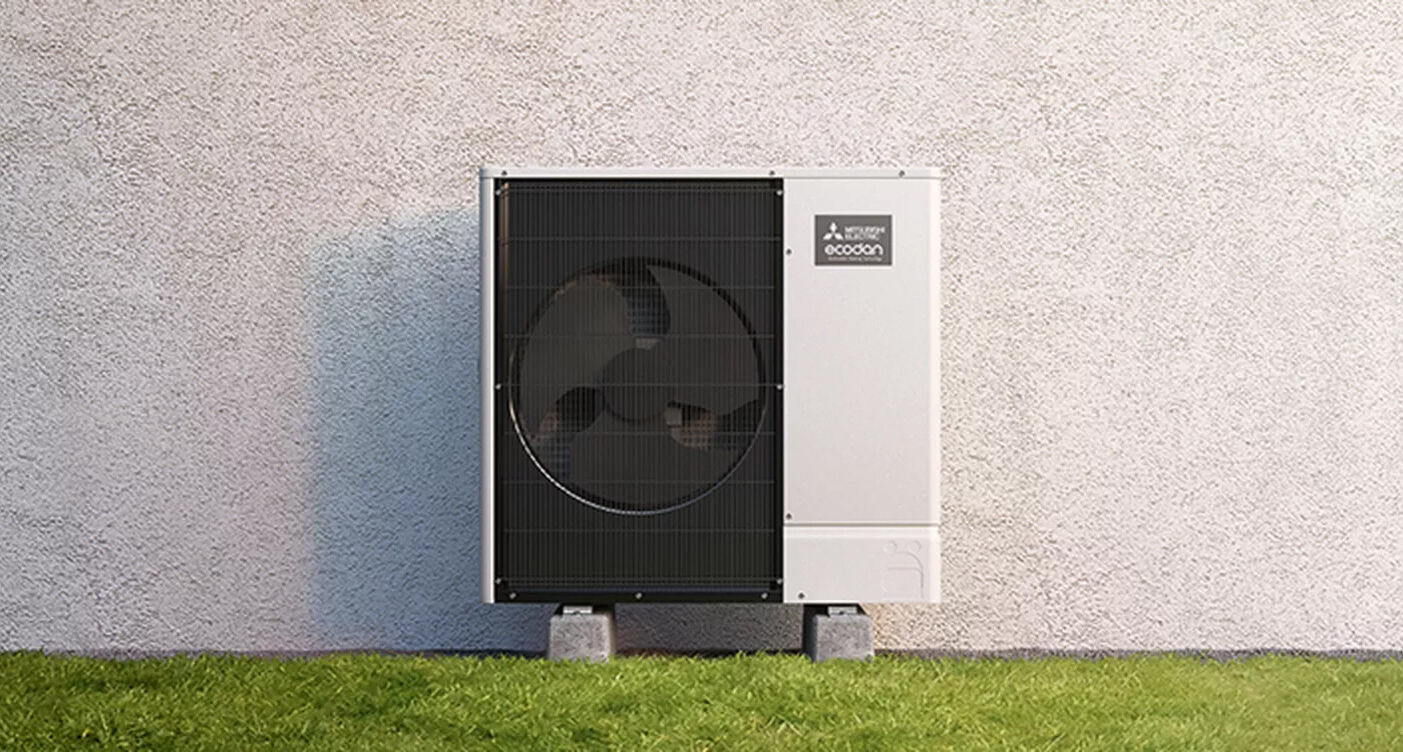 NEW Air Source Heat Pump. The Poplars: Modern, energy efficient refurbishment, ongoing project. Part 1 of 2.
With every new refurbishment undertaken, we always try and improve upon the standards set in the last one we completed and that includes the things you do see as well as the things you don't. Further evidence of our green credentials and future proofing our properties is the addition of a new air source heat pump so no Gas boilers or indeed any gas supply in the house this is very energy efficient.
Our current property undergoing transformation is the redevelopment / refurbishment at no 2 The Poplars on Hinderwell Street, Hull. This large development comprises of:
Ground floor: hall, kitchen/diner, bedroom with bathroom
1st floor: 2 bedrooms, both with ensuite bathrooms
2nd floor: bedroom with ensuite bathroom
Front car park secure gate and fence
Rear yard with patio for BBQ
The next generation features we are adding to this property help to meet current expectations for greener standards as well as provide a luxury modern living environment for future tenants. The whole property has been rethought from the ground upwards and includes some key features which will ensure its green credentials to be amongst the highest found in tenanted properties throughout Hull and the Humber region.
Some of the green features we are installing are:
Underfloor insulation
All new cavity wall insulation
Full working Air source heat pump replacing gas central heating
Brand new plumbing reimagined
Being an end – terrace building, built at the turn of the last century on typically soft foundations found in Hull, this property has suffered from subsidence and as such, our first priority was to shore up the foundations and make the building structurally sound. This gave us the opportunity to create brand new flooring with underfloor insulation.
Underfloor Insulation
Underfloor insulation not only helps to reduce the energy needed to keep the living environment warm but also eliminates drafts as well as reducing moisture entering the building from below. Overall less energy is needed to maintain the chosen temperature and wooden floors and door frames are less likely to warp and / or stain from excess moisture, so we have insulated under the floors (one of the bits you don't see) so maximum heat is retained.
Click on the images to enlarge
All new cavity wall insulation.
The way a building is insulated or lack of, contributes to its carbon emissions. A concerning statistic is that around 60% of heat is being lost through the roof and walls of badly insulated properties and therefore a significant amount of the money spent on heating the property is literally escaping out of the building.
This property is being insulated on all internal walls throughout to maximise its savings on carbon emissions and can save the property between £200 to £400 per year on the cost of heating.
Full working air source heat pump
The air source heat pump will maximise the property's potential to reduce it's carbon footprint. It replaces gas central heating and warms the water system by passing heated compressed gas over cool water in a heat exchanger. The heat pump pulls in air from outside and blows it over pipes filled with liquid refrigerant which warms up and converts into gas before being compressed, adding more heat which in turn passes into the central heating system. Meanwhile, the refrigerant condenses back into a cold liquid and the cycle begins again.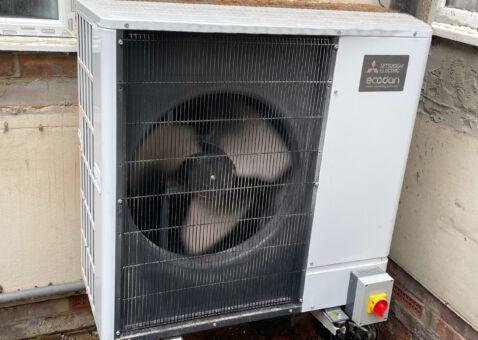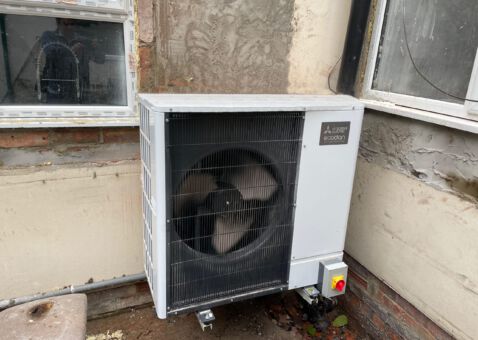 The air source heat pump look similar in shape and size to an air-conditioning unit and is in this case fitted to the back external area of the property. The system is highly efficient and produces low carbon and heats both the entire property as well as providing hot water for baths and showers.
This is how it works
The air source heat pump absorbs heat by warming up liquid refrigerant which is then compressed to increase its temperature. The heat is then transferred into the water system through a condenser
The system is super easy to control and heated water is then sent to all radiators, warming the environment to the desired temperature.
The remainder of the hot water can be stored in water tanks ready to use as desired.
As the system is used when needed it means that hot water is always available for hot showers, baths and sinks.
All new plumbing.
A brand new plumbing system with large radiators is being installed throughout the property so that we can provide maximum heating and maximum water pressure for future tenants to enjoy hot showers in their ensuite bathrooms regardless of where the fixtures are in the property.
As the air source heat pump is low energy, larger radiators will be installed to ensure heat is maximised throughout the coldest winters.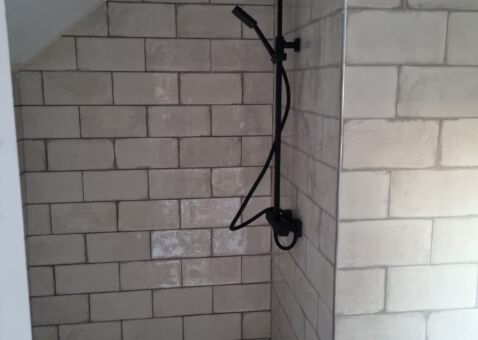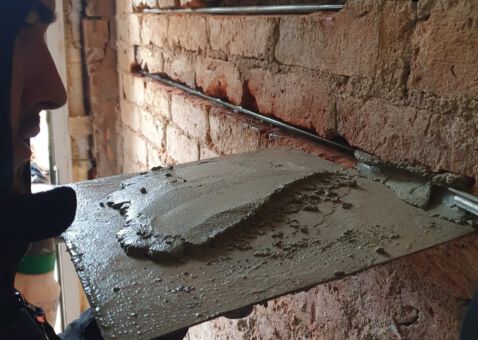 The property is also being rewired throughout, providing facilities for full broadband wifi internet, USB charging sockets and plenty of electrical power points as well as fixtures for on wall mounted televisions in all rooms.
Décor
The décor is completed in a rustic finish with some exposed brick work and wood features and some stunning new lighting features all fitted with energy saving light bulbs.
Also soundproofing and all fire safety issues have been addressed exceeding most of the standard regulations.
Our policy is always quality over quantity so the potential 6 rooms have been reduced to 4 very spacious well-equipped en-suite bedrooms that are normally twice the size of those normally associated with an HMO converted property. The bedrooms are then furnished with fully fitted wardrobes, desks and shelving and all modern furniture. This ethos continues into the spacious kitchen were a large hob and oven have been installed along with two ultra modern sinks and two washer driers and also to the front of the building where we have added a new private gated car parking area and constructed solid fencing to add an extra layer of security to the property.
Here are some pictures of the interior under construction. I'll produce another post that shows completion soon.
Click on the images to enlarge
We always find that if we take pride in the accommodation we present then good quality happy tenants stay longer and continue to ensure the property stays in good condition.
The result of such works are higher standard accommodation, happy tenants, good rents and very low ongoing maintenance costs.
Keep an eye out for our next post when the property is completed, but in the mean time, we are happy to discuss plans with other landlords should they ever wish to consider modernising and maximising the potential of their property.
If you like what you see here and want to know how your property could benefit then give us a call for an informal chat on 01482 342155.