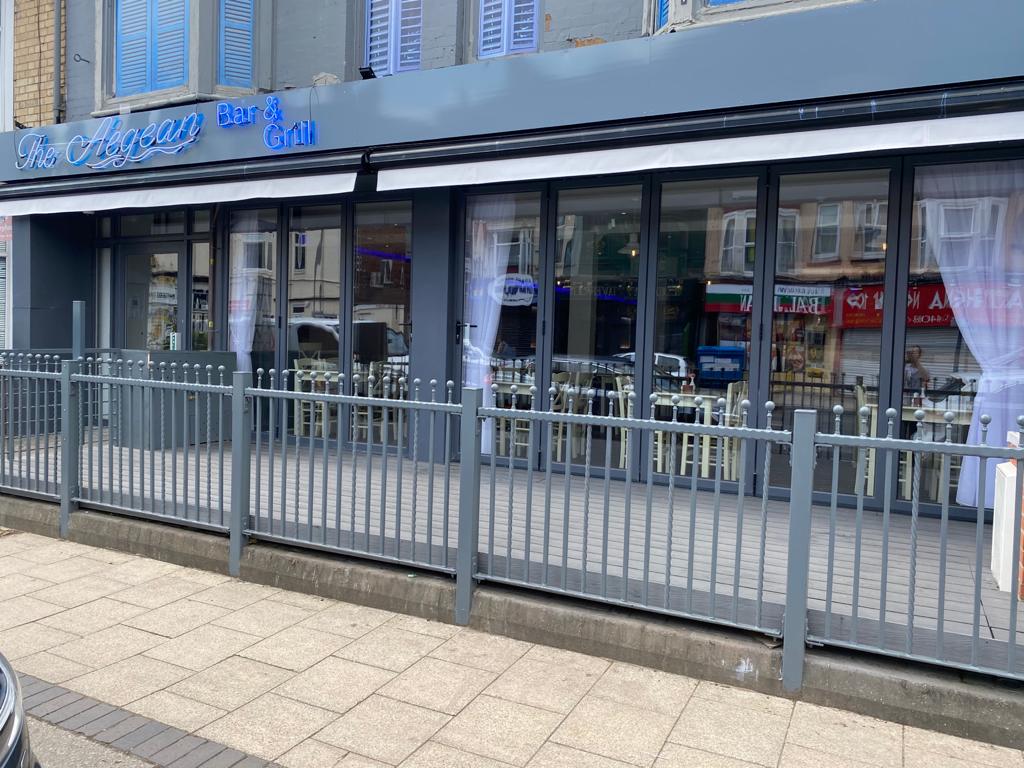 Our Property Management Service: The Aegian Bar and Grill on Newland Avenue, Hull
"Welcome to Aegean Taverna where we hope you will have a great time and enjoy good traditional Greek cooking. A Taverna is an integral part of Greek culture. Usually a small Greek Restaurant by tradition, similar to a Tavern where Greeks of all walks of life can go with their families, children or friends and enjoy a good home cooked hearty meal."
Well the last year or so certainly have not been easy on the hospitality sector – this new restaurant should have been open in early 2020 but instead everything went on hold early Summer!
Our new tenant, Simon, started to rent the property from us in January 2020- the timing could not have been worse for him or ourselves. However, as our communities slowly started to unwrap from this terrible pandemic, work resumed on refurbishing this property on the corner of Newland Avenue in Hull. As we are a property management team in Hull, we were able to help Simon during this challenging time to overcome the obstacles of that would otherwise have been thrown up by dealing with multiple contractors and furloughed companies.
Pools Corner
The new Aegean Taverna occupies the building of the once locally famous Pools Corner which was, in it's heyday a very popular second hand shop. This veritable emporium sold everything from audio equipment to bicycles, lawn mowers to video consoles and reached local legendary status along side the likes of The Adelphi music venue, Sunday lunchtimes at the Piper Club and going to the Tower (for an hour). Prior to Pools Corner the building was occupied by an equally legendary local icon named Les Turner's that sold supermarket goods as well as seasonal items like Christmas decorations well before Halloween (he was ahead of his time…).
A less than ideal start!
Pools Corner closed it's doors many years ago and since then has been used as an Eastern European supermarket and also an Italian restaurant. The previous occupants had left the property in a terrible state, leaving much work to be done to restore this once proud building back to working order. Plumbing and pipework had been ripped out, damaged kitchen appliances and utensils had been left strewn about the place and walls and ceiling and had been damaged beyond repair.
Click on the images to enlarge
We are specialists in property management in Hull and so we were able to Help Simon get up and running.
During Lock down Simon and ourselves have not been idle and together we have set about breathing new life into this building, transforming the property into an authentic style Greek Taverna that transports diners into the heart of Greece both with its food and its interior.
We have created a highly modern open kitchen area where Simon cooks the traditional Greek meals before your eyes, which diners enjoy in lovely surroundings.
The restaurant is light and airy, decorated in creams and natural stone, wood and earthy tones, topped off with accented lighting to balance the traditional with the modern.
Click on the images to enlarge
The lighting, including stunning ambient lighting around the edges, show off the pictures of Santorini and other resorts that will make you feel as if you are on holiday (who needs to go abroad with all the restrictions when you can enjoy the same food and experience on your doorstep?)
There has also been a new outside decking area created that will allow outside seating for those warmer days that we all hope are around the corner. A few items from the menu are shown below (note this may alter subject to seasons).
Click on the images to enlarge
We think this restaurant refurbishment will provide a great platform for Simon to deliver a relaxed dining experience with his wonderful and uniquely popular cuisine including a selection of traditional wines and Greek beers from the fantastic new bar area.
This is not his first enterprise Simon has undertaken, he also has a very popular restaurant on Anlaby road and like the Newland Avenue property it also specializes in Greek food (the country of Simons birth).
So far even during the last couple of weeks of enforced social distancing measures the Aegean restaurant on Newland Avenue has proven very popular and we hope that this new business venture is here for many years to come.
For any more information or if you'd like to book a table, visit the Aegean Taverna website: http://aegeantaverna.co.uk/